Our Partners
Zanui Furniture & Homewares
Zanui is Australia's new online destination for furniture & homewares. They provide consumers with stylish new products for home, inspiration and ideas for home decoration and unmatched customer service.


At Zanui, they are committed to offering the highest quality products, the widest product range in Australia and a formidable selection of brands that will transform your home.


Decorating your home should be fun and, at Zanui, they know that your shopping experience should be, too! With their seamless and user friendly online shop and their world class customer service team, they ensure that your home decorating experience is easy, enjoyable and inspiring.

Cosy Nest Interiors
CosyNest Interiors is a newly founded online furniture and home decor store based in Sydney, Australia and they gladly provide their products and  service to the whole of Australia. We know Australians are enthusiastic about home decorating and take pride in their houses, just like us!! We all love beautiful stuff and crave to create a house that we can call our own cosy nests!!


So, that's how it all got started. They then invited another two like minded people to join their venture.
Yes, there are seven partners there. They are all young people at heart and enjoy decorating and shopping online despite their different professional backgrounds.
The Free Shop
As the name suggests, we sell everything for $0.00 on The Free Shop, where Australians shop absolutely for free and only pay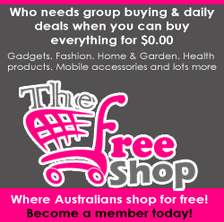 for postage. You can buy gadgets, dresses, home and garden products, appliances, fashion and lots more all for $0.
You need to be a paid member (Silver, Gold, Platinum and Diamond packages) to be able to shop for free.
To understand how The Free Shop works, think about an insurance business model. We have paid members with a pool of cash which is invested all year long. A paid member then can purchase the free products (as if making a claim in the insurance model) and only pay for postage (which like the excess in insurance).
We pay manufacturers from the invested money and the customer buys everything for free. For more details, please visit the How it works page on The Free Shop website.
Marnies Keep Fresh reduces fruit & vegetable wastage by up to 80%.

KeepFresh is a unique product that keeps fruit and vegetables fresh for longer.
Simply placing a green Keep Fresh Fridgit in your refrigerator produce drawer can reduce fruit & vegetable wastage by up to 80%.
KeepFresh is totally safe and non-toxic and has been proven effective by independent university tests.
For less than 50 cents per week KeepFresh can save a household hundreds of dollars per year in reduced produce wastage and keep fruit & vegetables fresh for up to 6 weeks longer.
It's simple, it's safe, it's convenient ….. It works !  Click here to check it out!