AFC 5 Minute Leather Cleaner
Leather Care Made Quick & Easy!
Aussie Furniture Care 5 Minute Leather Cleaner 500ml

Description: AFC 5 minute Leather Cleaner is designed to help people to get into the habit of of cleaning and caring for their leather.
It is an advanced formulation which contains a successful blend of a chemical free all natural cleaner that actually works. The leather cleaner is easy

Safe To Use: AFC 5 Minute Leather Cleaner can be safely used on full aniline, semi-aniline, waxed and pigmented top-coated leathers, with ease.
How It Works: With AFC 5 Minute Leather Cleaner, cleaning leather is no longer a chore!
Used regularly, weekly is recommended, AFC 5 Minute Cleaner will clean & protect as quickly as it takes to dust. A simple spray & wipe clean only takes 4-5 minutes on an average 3 piece lounge.
That's leather care made Easy!
Price $29.95


Recommendation: After leather cleaning with AFC Leather Cleaner follow up with AFC Leather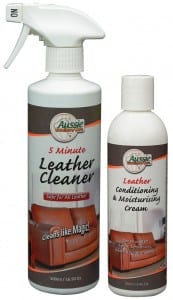 Conditioning & Moisturising Cream to keep your leather soft and supple.
Save money with our leather cleaner and leather conditoner combo
Combo Price $51.00
Buy the 500ml AFC Leather Cleaner & the 250ml AFC Leather Conditioning & Moisturising Cream together and save 15% off the individual prices.

Related products: Ecoshield Leather Cleaner, Ecoshield Leather Conditioner, Ecoshield Leather Protector, Ecoshield Leather Care Kit.