How many times have you looked at an annoying scratch or nick in a piece of your treasured furniture and wished there was an easy way to fix it… Or at least improve it's appearance in some way?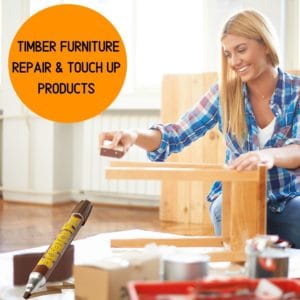 Well in many cases it can be done.
By using our furniture touch up pens and furniture repair products you'll be able to do many minor repairs and touch ups on wood furniture yourself and get great results.
The most important thing to remember is… these types of products are only suitable for minor damage to furniture and not elaborate repairs where it's best left to a qualified tradesman or craftsman to carry out the job.
There are several do it yourself furniture repair and touch up products for wood furniture that can be used:
Scratch Fix Pens.
Scratch Fix Pens also known as Furniture Touch Up Pens are the easiest and most simple product to use for fixing minor nicks or scratches.
Shop Now
Furniture Repair Crayons.
Furniture Repair Crayons are designed for filling fine splits, small holes and small gouges in wood furniture.
Shop Now
Wax Putty Bricks.
Wax Putty Bricks are a synthetic wax filler sticks designed for repairing and filling larger splits, dents, holes, knot holes and gouges on all types of wood furniture, wood floors and other wood related products used internally.
Shop Now
Steel Wool "0000" Superfine.
"0000"Superfine Steel Wool is the steel wool French Polishers and Furniture Restorers use to remove light scratches and imperfections on wood furniture. It's also used for cutting back between coats of French polishes, varnishes, and oil finishes.
Shop Now
Furniture Reviver is excellent for putting some life back into furniture that is looking a bit "Tired" and "Dry" or has light surface scratching that has not broken through the lacquer.
Shop Now
Tibet Almond Stick
The Tibet Almond Stick is a tightly rolled cotton stick, soaked in a secret family formula. It is used to hide surface scratches from wood surfaces.
Shop Now