White leather furniture has become a popular choice of home decor these days but that choice comes with its own set of problems, the main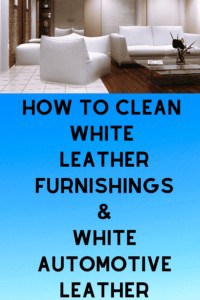 one being keeping it clean especially if it's used regularly and the other is preventing dye transfer from clothing like denim jeans.
In this article I'll show you the easiest and most inexpensive ways to keep leather feeling smooth, soft and supple and looking beautiful.
To start with we need to look at your cleaning options so that you can make an informed choice as to what is best for you. The question is do you want to hire someone to do it for you or would you rather do it yourself.
Obviously the easiest and most straight forward option is to have it done for you but that is also that most expensive. If you are into doing things yourself and want to save money then the DIY road is the best choice.
You will see as we go through the DIY steps that it's really quite easy but will require some basic knowledge and a little bit of work and elbow grease.
These DIY white leather cleaning steps are the same for furnishings or automotive leather.
Follow my step by step guide for excellent results:
Lets get started
There are 2 important things to check before starting:
(1) Identifying the type of leather (See info below)
(2) Testing the leather cleaner you are using in an inconspicuous area
Guide lines for identifying leather:
Pigmented / Protected / Top Coated / Painted
This is the most common leather type used in furniture, approximately 90% of the market. This is also the type of leather that is used in most makes and models in the Automotive Leather Industry. This leather has a uniform appearance and color with a smooth satin finish. The leather has an intense color and a definite pattern (grain). You cannot see any natural leather markings through the top coatings, because pigmented leather has a flexible leather paint coating that is applied to the surface. Your leather is then sealed with a durable finish. Properly maintained, this finish will provide years of cleaning ability and durability. Source
Identifying characteristics: Uniform color and grain patterns; will not scratch easily; water drops do not absorb and will not change the leather's color.
Please note: Do not use these cleaning procedures or products on any Unfinished leathers, Nu-Buck Leather or any leather with a Raw Finish including Suede.
Testing the Leather Cleaner:
Always take the time to test the leather cleaner is not going to cause adverse reactions with the leather finish. This is an important step because there are many poor quality leathers in the market that look great but are not pigmented or coloured correctly. Another reason is if the leather is old or deteriorated the surface coating may have broken down.
Make sure you test in a small inconspicuous area for any reactions eg: Removal of colour from the finish or stickiness.
See image below: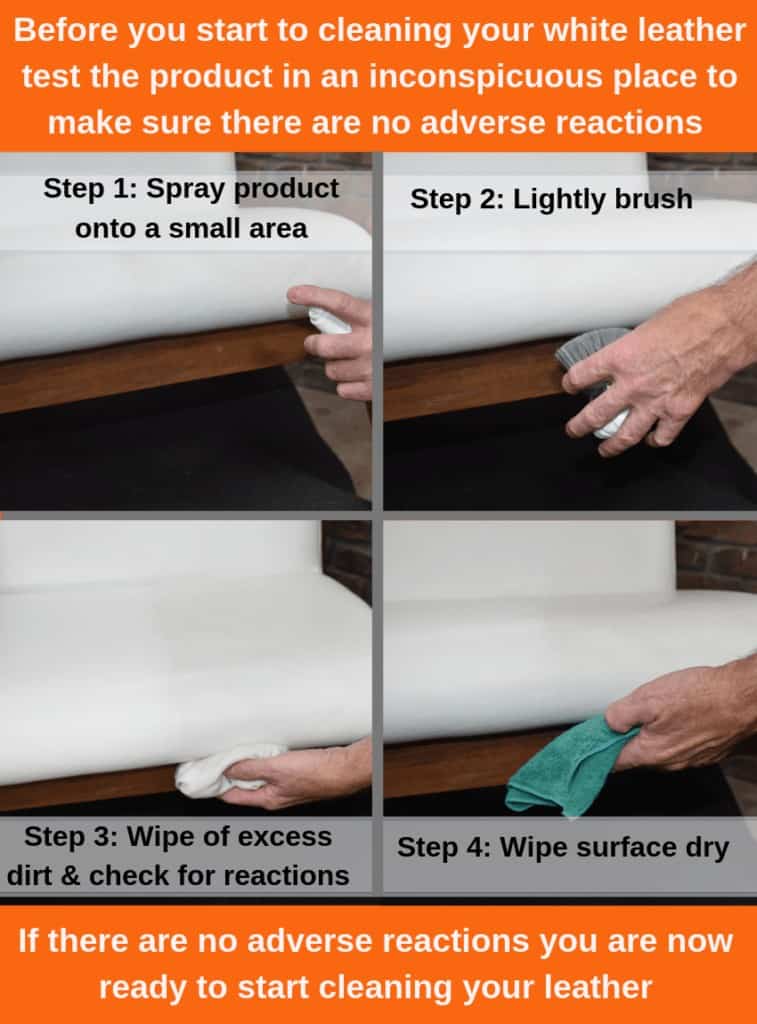 If you prefer not to read go to our instructional how to clean white leather video at the bottom of this page.
Now that we have carried our first two important tasks here's what you'll need:
1 x Button of warm water to wet and rinse cloths before wringing out.
1 x Soft bristle cleaning brush for agitating dirt in the grain and on the surface for a deep clean
1 x Absorbent soft cloth eg: old white t-shirt or singlet material is ideal to wipe off initial dirt coming to the surface.
1 x Microfibre cloth for final wipe over to grab any dirty residue.
1 x Leather cleaner of your choice (We recommend AFC 5 Minute Leather Cleaner)
Your now ready to carry out the cleaning steps.
Step 1 
Place your absorbent cloth into the bucket of warm water and lightly wring it so it is slightly wet
and go over a section of the leather to be cleaned doing small areas at time (eg: 1 x seat cushion or chair base) and wet the surface area down
Step 2
For lightly soiled leather or a general regular clean using same process as for dirty leather but only use your cloths not a brush.
For dirty leather apply your chosen leather cleaner and depending how dirty the leather is use your brush to lightly agitate the dirt until it comes to the surface and wipe off with with a well rung out absorbent cloth. Repeat the process if necessary
Step 3
Get your microfibre cloth dip it into a bucket of clean water and wring it out tightly and do a final run over the surface to grab any excess dirty residue and allow the leather to dry before applying a good quality leather conditioner.
Watch the video below to see the steps carried out live