Bed Riser FAQ's
On this page we answer the most frequently asked questions about bed risers including what they can be used for and what you need to know before purchasing.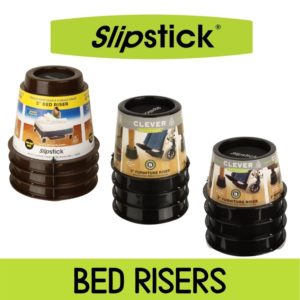 Q: What sort of material are the bed risers made out of?
The bed risers are constructed from reinforced & extremely strong, high impact plastic that will give you years of reliable performance.
They come with a 5 year Full Replacement Warranty.
Each bed riser has been tested to hold up to 500lb (225kg) each and has a Special Non-slip Rubberised base.
Q: What are Bed Risers used for?
Storage
If you want to utilise the wasted area under your bed for some extra storage space, then bed risers would be a good investment.
Bed Risers lift your bed off the floor by a few inches which allows you to store things under it. There are 3 sizes 5″ (125mm) and 3″ (75mm) and 2″ (50mm).
If you need the bed any higher than the these 3 sizes mentioned the Slipstick Bed Risers have been designed so you can safely fit the 3″ (75mm) bed riser on top of the 5" (125mm) Bed Riser giving you a total height increase of 8 inches.
Q: What else can they be used for?
Health Issues & Disabilities

They are designed for anyone with decreased strength, endurance, balance and sleeping problems where they need their head elevated (for example, obstructive sleep apnea). Many Senior age people can fit into this category. Some people sleep better with the head elevated so they only use risers on one end.
They are also a great way to reduce falls risk as they make it easier for an aging or disabled person to get in and out of bed.
*Always seek medical advice first before using Bed Risers as an aid for medical conditions, injuries or disabilities.
Q: What I need to know before purchasing?
If you are wanting to raise one end of a bed ensemble that is on castors then Slipstick Bed Riser are not the right solution.
Slipstick Bed Risers are an excellent solution if you want to raise a bed ensemble evenly. In this case you would need to put one riser foot under every castor for stability and strength.
When fitting the bed risers under a 4 post bed check the following:
On a tube bed legs make sure the diameter does not exceed 70mm.

On a bed with square or rectangle legs make sure the leg does not exceed 50mm
Height: The bed risers come in 3 different heights 5inch /125mm and 3inch / 75mm and 2inch / 50mm. You want the mattress height to be high enough that it is easier for the user to get in and out, but not too high that they cannot touch the floor when sitting on the edge.
A good starting point is having the mattress level with the crease of the users knee. You may need to compromise if people of differing heights sleep in the same bed.
Q: How many legs should I put the Bed Riser under?

In most cases it is recommended that you put one under each leg of your bed.
Q: Are Bed Risers suitable for all types of beds?
Other than the situations listed above the answer is generally yes. As long as the leg of the bed is sitting completely inside the round indented area provided at the top of the riser foot, so that it can't slip off.
Q: Can Bed Risers be used to raise other types of furniture?
Yes. As with the previous question the legs of the furniture must be sitting inside the round indented area at the top of the riser so that it doesn't slip off.
Q: What is the best way to clean the Bed Risers?
Simply wipe clean with a damp cloth and dry with a second cloth.
The area where the furniture sits on a bed riser is round. Can you put furniture with square legs on them as well?
Yes. As long as the measurement of the leg does not exceed 50mm.
Q: Do the Bed Riser come in any other colours?
At this point the 5inch / 125mm comes brown only the 3inch / 75mm and the 2inch / 50mm come in black only.