The Furniture First Aid & Care Kit has handy combo of products to fix scratches, nicks, cracks and splits in timber furniture as well as polishing and maintaining wood furniture.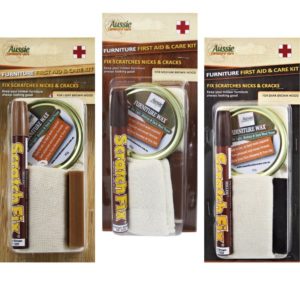 Maintain, clean and nourish timber furniture
This kit is designed for repair and care in one pack.
The furniture first aid and care kit comes in 3 colours:
Light Brown, Medium Brown and Dark Brown
Contents:
 
1 x Scratch Fix Pen.
1 x Wax Filler Stick.
2 x Pure Cotton & Rayon Polishing Cloth.
1 x 50 gr Tin Pure Australian Beeswax Furniture Polish.

Uses for each product in kit:
For touch ups and minor scratches use the Scratch Fix pen.

For cracks and splits fill with the wax filler stick.

For Cleaning and polishing use beeswax furniture polish and polishing cloths.
Can be used on most timber furniture and finishes including: Lacquer, Varnish, Shellac and Veneers ( Not Suitable For 2 Pack Polyurethane)
Furniture First Aid & Wood Care Kit Light Brown Product Code: FFACL
Price $29.95


Furniture First Aid & Wood Care Kit Medium Brown Product Code: FFACM
Price $29.95

Furniture First Aid & Wood Care Kit Dark Brown Product Code: FFACD
Price $29.95

How to use instructions are printed on the back of the pack or see how to use each product in the video links below: