Furniture Polish
Furniture Polish.
Aussie Furniture Care is now providing a very unique, stylish, range of up-market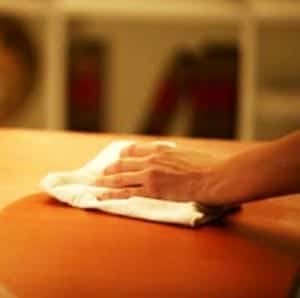 furniture care products, designed with the intention of creating an outstanding and easy to use product to service the needs of  home owners who want maintain and look after their timber furniture.
Using furniture polish for cleaning, maintaining and protecting wood furniture has never been easier.
The Aussie Furniture Polish is blended with a combination of the ancient protective properties of pure, disease free Australian beeswax and natural tree oils, with safe modern ingredients that not only clean and shine timber surfaces, but to also nourish and protect wood furniture from today's environmental extremes.
Our furniture polishes do not contain any Silicones, Hazardous Petro-Chemical By-Products or Gum Turpentine.


Furniture Polish range descriptions and sizes:

Furniture Wax 250 gram:
Available in Clear, Brown and Black
Use approx every 6 months. Use Quick Polish in between 6 monthly application.

Read more..

Quick Polish 250ml:
For regular use where the furniture needs a quick polish and buff in between 6 monthly applications of long term furniture wax. Only available in clear and is suitable for all wood tones from light through to dark.

Read more..

Orange Oil Furniture Polish 250ml:
For people who prefer to use oil furniture polish rather than wax. For regular use whenever the furniture needs a polish. Orange oil also has excellent cleaning properties as well as being an excellent furniture polish. Can be used on most finishes and on wood tones light through to dark. Leaves no residue.

Read more..

Reviver Oil Furniture Polish 250ml:
Furniture Reviver is excellent for putting some life back into furniture that is looking a bit "Tired" and "Dry" or has light surface scratching that has not broken through the lacquer. Specially formulated to nourish and enhance medium to dark wood tone furniture. Doubles up as a furniture reviver or as a furniture polish.

Read more..
Related Products: Pure Cotton Polishing Cloths, Furniture Repair and Touchup Kits.