Leather Care Kits
Leather Care Kits are an excellent way to get everything you need for complete leather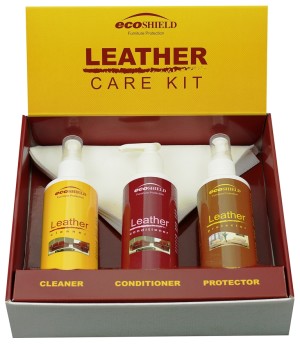 care in one kit. Our leather care kits are suitable for leather furniture, automotive leather and leather fashion accessories.
Leather Care Kit by Ecoshield for "Top Coated Leathers Only"
Our Leather Care Kits include leather cleaner, leather conditioner and leather protector but they are also sold individually.
The Ecoshield Leather Care Kit is specifically designed to maintain and enhance Top Coated Leathers and should not be used on NuBuck or Analine Leathers.
Regular use (Approx every 3 to 6 months) of these easy to use products provided in the kit will effectively remove day to day dirt and grime, condition and protect your leather and add years to it's life at the same time.
Leather Care Kit by Ecoshield.  Price: A$59.95

Another option we offer is the AFC Leather Cleaner & AFC Leather Conditioner Combo, click here to find out more.