Aussie Furniture Care has just released Shabby Wax For Hand Painted Furniture. A specialised wax specifically formulated to seal, polish and protect hand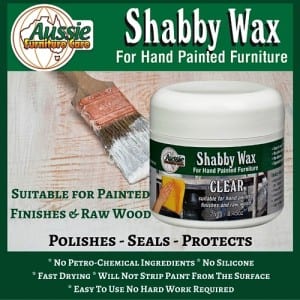 painted finishes as well as raw wood furniture.
Shabby Wax Paste Clear is a premium quality high performance beeswax furniture polish that's simple and easy to use without the hard work of old style traditional beeswax polishes it never builds up and it's smear free.
The Shabby Wax is the perfect way to polish, seal and protect painted timber and raw wood finishes quickly and easily.
One important benefit is the wax contains no petro-chemicals and will not strip paint from the surface.
Other features worth noting are the following:
The paste wax is made from Pure Australian Beeswax so you assured of quality.

Australia is the only country left in the world that has disease free bees.

Natural Tree Oils are added to the wax to nourish the wood and to help prevent drying.

Pleasantly & lightly  scented with pure essential oils.

Unlike old style traditional beeswax it's easy to apply and easy to buff.

Leaves no residue and never builds up.

Helps to prevent water marking with it's excellent sealing properties.
Paste Wax Clear available in 250gr Jar
Price $26.95

For cleaning and maintaining hand painted furniture use our Shabby Liquid Polish.