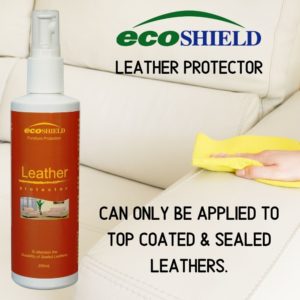 Help protect your leather from soiling, staining and normal wear and tear
EcoShield Leather Protector is a water based protector blended from a range of durable resins.
It's designed to help protect leather from soiling, staining and normal wear and tear by providing an extra sealant over the leather surface.
Used on new or pre-cleaned leather, EcoShield Leather Protector locks in natural moisturiser, particularly after conditioning the surface with Leather Conditioner.
Add lustre to your leather and ensure that future cleaning and maintenance is a whole lot easier!
Ecoshield Leather Protector can be used as a stand alone product or as part of a 3 step process.
Step1: Clean leather 
Step 2: Condition Leather
Step 3: Protect Leather
If you are doing all 3 steps we recommend the Ecoshield Leather Care Kit.
Handy Tip: If the leather protector is used on it's own you need to make sure the leather has been cleaned thoroughly with a neutral PH Leather Cleaner first especially if the leather is not new.
Warning: The Ecoshield Leather Protector can only be applied to top coated and sealed leathers.
Not suitable for Nu-Buck, Suede or Raw Unfinished Leather
Perfect for leather lounges, leather car seats, leather clothing and leather handbags.
Always test in an inconspicuous area to ensure there are no adverse effects or colour change.
Related Products: Ecoshield Leather Cleaner  Ecoshield Leather Conditioner
Price $24.95 for 250ml Bottle Ecoshield Leather Protector.