Furniture Movers
Furniture Care Products Is Proud To Announce The Launch Of Their Latest Product Slipstick Furniture Movers.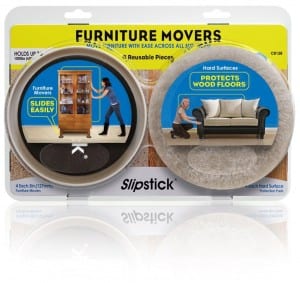 Moving Heavy Furniture Across Any Floor Surface is Now Effortless…
Who would have thought that moving heavy furniture could be such an effortless task?
Now with the amazing new Slipstick Furniture Movers, moving heavy furniture is a breeze.
FEATURES:
Ideal for easily moving furniture around the home, office or store.

Makes moving heavy furniture and appliances easy.

Place under furniture, push into desired position and remove when done.

No adhesive needed.

Great for timber, tile and carpet floors.

Ultra smooth base allows furniture to slide easily across carpet.

Special slip on cover to slide furniture across timber floors with ease and without scratching.

Reduces the risk of damage to furniture caused from dragging it across the floor.

Reduces the risk of injuries
Move furniture with ease across all surfaces.
8 reusable pieces.
Holds up to 1000lbs (450kg)
4 x 5inch (127mm) Furniture Movers.
4 x Hard surface protection pads.
Furniture Movers CB128.
Price $34.95


Customers who purchased Furniture Movers also purchased Floor Protectors & Felt Floor Protectors.