Rubber Castor Wheels
Here's a solution for stopping plastic castor wheels from damaging timber floors.
Slipstick Rubber Castor Wheels are designed to replace existing plastic office chair wheels and prevent scratching on polished floor surfaces.
CB680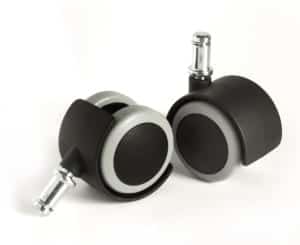 Rubber Castor Wheels
Set of 5 – 2″ (50mm) diameter
Perfect for office chairs with standard stem size.
* Glides Quietly
* No floor mats required.
* Rubber wheels protects floors
* Change wheels in under 4 minutes.
Price $26.95 per packet (5 Castor Wheels Per Packet)

---
How to fit the Slipstick Rubber & Plastic Castor Wheels