Fabric Care Kits are a cost effective way to get everything you need for cleaning, deodorising and protecting your fabrics.
There are numerous ways to clean and look after fabric, but the best way is to use products that are designed specifically for that purpose.
Ecoshield Fabric Care Kit.
When it comes to cleaning and caring for fabrics you can't go past our Fabric Care Kits by Ecoshield, they're easy to use and contain everything you'll need for complete care of fabric on your furniture.
1 x 250ml bottle Fabric Spot Cleaner.
1 x 250ml bottle Fabric Deodoriser.
1 x 250ml bottle Fabric Protector.
2 x White Cleaning Cleaning and Spotting Cloths
All 3 products are water based, non toxic and safe to use on most modern and older furniture.
Ecoshield products contain no solvents or abrasives and are totally safe to use on all fabrics and textiles, they're even safe to use on delicates such as wool.
Handy Tip: Always test the products on a small inconspicuous area on your furniture first to ensure fabric is colorfast and doesn't fade or run before you proceed.
We carry a complete range of Fabric Spot Cleaner, Fabric Deodorisers, Fabric Protection Products
Fabric Care Kit. 
Price: A$49.95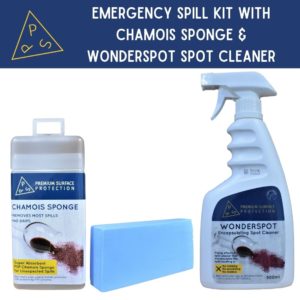 Emergency Spill Kit For Upholstery, Rugs & Carpet With Wonderspot & Chamois Sponge
The Emergency Spill kit for Upholstery, Rugs and Carpet is a must have item in the event of an unexpected liquid spill.
The kit consists of a PSP Super Absorbent Chamois Sponge which you use immediately to mop up and absorb any liquid and in the event of the spill leaving a stain you can follow up with PSP Wonderspot Encapsulating Spot Cleaner.
The reusable chamois sponge is simple and easy to use and removes most spills without dripping.
PSP Wonderspot is a highly effective non toxic spot cleaner that encapsulates the spill resulting in:
No rubbing
No scrubbing
No residue
Emergency Spill Kit 
Price: $49.95