Fabric Spot Cleaners
Ecoshield Fabric Spot Cleaner 250ml


Your first try solution! Ecoshield Spot Cleaner / Stain Remover is a professional strength stain and spot remover for fabrics, carpets, drapes and upholstery, the same product is used by professional cleaning companies for the removal of common and not so common household stains.
250ml Bottle $17.95

Ecoshield Fabric Spot Cleaner & Professional Strength Stain Remover 500ml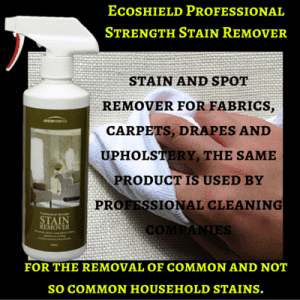 The Ecoshield Fabric Spot Cleaner contains a blend of water based emulsifiers and solvents that help to dissolve most grease, oil, food, beverage and protein based stains.
500ml Bottle $24.95

Attend to stains as soon as they occur, then apply Ecoshield Fabric Deodoriser to freshen and sanitise cleaned area.
To protect against further stains and grime apply Ecoshield Fabric Protector to the cleaned area of fabric or carpet.

Other options
Ecoshield Fabric Care Kit
The kit has everything you need to spot clean and maintain your fabrics.
Includes 250ml fabric spot cleaner, 250ml fabric deodoriser, 250 ml fabric protector and 2 cleaning cloths.
Fabric Care Kit $49.95


Handy Tip:
Any product that comes in your fabric care kit is only suitable for small spot cleans.
Always use the fabric spot cleaner in moderation and do not excessively wet area to be spot cleaned.
For large stains or spills we recommended calling in a Professional Carpet or Upholstery Cleaning expert for best results.
We carry a complete range of Ecoshield Fabric Care Kits, Fabric Deodorisers, Fabric Protectors.
Save
Save
Save